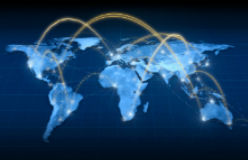 Are you a remote desktop user? Have you often wished for something better? Well wait no more, your time has come. Virtual desktop is the next logical step beyond remote desktop. The technical evolution from remote desktop to virtual desktop is complete and it yields a new experience and improved feature set. Remote desktop's limitations (i.e., slow, erratic connections and the dependence on a second piece of physical hardware) are now replaced with state of the art technology that virtualizes the desktop environment and hosts it in the cloud.
In a virtual desktop environment your access is secure and your data safely resides in the redundancy of the cloud. It replaces the 20th century physical PC desktop environment with an always-accessible "machine" where all your data remains centrally intact and the machine you access nearly maintenance-free. On contrary, remote desktop requires a dedicated physical machine running constantly if you want to access it—whether you do so or not. If for some reason the computer being accessed via remote desktop is turned off or worse, the hard drive has crashed, then your productivity will be immediately grind to a halt.
Also, when you replace remote desktop with a hosted desktop solution you'll immediately eliminate the need for middle of the night phone calls to IT support trying to find someone who can go to the the office and reboot your remote desktop machine. Why waste your vacation time with such stressful distractions? Virtual desktop is everything you've always wanted remote desktop to be.
Benefits of Virtual Desktop over Remote Desktop
Virtual Desktop is a pro-green idea whose time has come—Virtual desktop is based on the shared resources model. Which means, each virtual desktop functions as a totally autonomous unit with its own applications, personalized setting, etc.  Each of those "machines" share the resources of a single piece of robust server hardware. Multiple often idle PCs can be virtualized and therefore save money by reducing over-all power consumption.
Virtual Desktop helps control your hardware expenses—Since the brunt of the processing work is done by the CPU of the server hosting the virtual desktops the client PC used for access become more terminal-like and can be far less robust. The typical 18-24 month hardware upgrade cycle becomes far less urgent with virtual desktop.
Virtual Desktop is a CFO's dream come true—A significant portion of IT's budget is eaten up by necessary but mundane tasks such as making backups, restoring backups, installing patches, upgrading hardware, etc.  As desktops become virtual this workload and headcount shifts over to the virtual desktop provider.  Also, as mentioned in the previous bullet, aging PCs can find new life as thin-clients used for accessing virtual desktops.
CIO's and CTO's can shift the focus of their organization—As previously mentioned, IT is often burdened by responsibilities that prevent it from making a positive contribution to the bottom line.  By centralizing and right-sourcing this workload, virtualization has the potential to enhances reliability, availability and maintainability.  Stand-alone PCs might be cheap to buy but they are expensive to maintain.  And that doesn't including the cost of hard-drive failures and the like. Virtual desktop excels because all data and applications are maintained and backed-up daily by the virtual desktop hosting service provider.
Security is built-in component of the Virtual Desktop fabric – Enterprise-level firewall fortification along with anti-virus and anti-spam protection keep your hosted virtual desktops secure and safe. Furthermore, your connection to your desktop virtualization hosted environment is always through SSL.
Click for click, Virtual Desktop offers the physical desktop experience—Agreed, remote desktop had its day. But yesterday's it's close enough approach is no match for today's real deal of virtual desktop technology. Stop compromising and stop faking it with remote desktop. Embrace virtual desktop and enjoy the true feel and experience of remote computing that feels as if you're using your very own local PC.
Windows remote desktop can't compete with Virtual Desktop's "anytime anywhere" user-experience – Virtual desktop is designed to offer true universal accessibility. Virtual desktop is also superior to remote desktop because the benefits of the virtualization model is an extension of the cloud computing model. That is, with remote desktop you're stuck trying to connect to a single machine that may or may not have someone supporting it in real time. On the other hand, the cloud is ubiquitous. It is multiple machines woven together to become a single resource. Your virtual desktop is not a piece hardware, but a software instance that exists as you need it.
Virtual Desktop is What You Wanted from Remote Desktop
Apps4Rent is a Microsoft Gold Certified Partner with over a decade of experience in managing, supporting and supplementing corporate IT infrastructure.  Our technical support team is available 24/7 via chat, email and phone.  We offer virtual desktop plans start at $24.95 per month.  We don't try to lock you into long term contracts—it's a pay as you go model.  You also get free 7 day trial period.