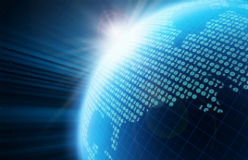 We are a leading provider of hosted virtual desktop infrastructure (VDI). The term VDI refers to running your regular Windows desktop operating system in a virtualized machine running on a very powerful server. Hosted VDI has numerous benefits. Virtual Desktop Infrastructure offers anywhere access, seamless user experience akin to the traditional desktop, and better data security.
Hosted VDI Means Freedom to Access Your Desktop From Anywhere
With hosted VDI services in place, end users can access their desktop from anywhere, thus improving productivity while concurrently tightening data security. With a VDI solution, the end-user experience remains familiar. Their desktop looks just like their regular Windows desktop and their thin client machine functions just like the desktop PC they've grown accustomed to.
Virtual Desktop Infrastructure Hosting is More Secure
We host the desktop on a server in our top tier secure data center where data is kept safe and not on the end-user's machine which can be lost, stolen, or corrupted with viruses. Virtual Desktop Infrastructure lowers the risks inherent in storing data on the user's desktop computer.
Benefits of VDI hosting from Apps4Rent:
• Just give us few minutes and your desktops will be up and ready in no time
• Get the best price for hosted VDI
• Lower your IT cost, reduce IT management headaches and improve productivity
• Rely on the top tier data center infrastructure and our security experts to safeguard your data
• Leverage our decade of experience in supporting and managing corporate IT infrastructure
• Get 24x7x365 support from our experienced team of professionals via chat, email and phone
Don't miss this opportunity! Get the best VDI hosting service from Apps4Rent, a Microsoft Gold Certified Partner, and have a hassle-free working environment.